COVID 19 has impact on water pollution. The EPA provides important information on corona-virus related to drinking water and wastewater. Researchers have not been able to detect COVID-19 in drinking water supplies. Based on current evidence, the risk of water supply is low. Americans can continue to use and drink water from their taps as usual.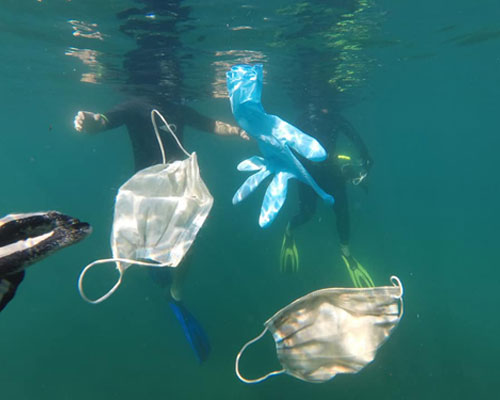 The COVID-19 virus is an enveloped virus, with a fragile outer membrane. Generally, enveloped viruses are less stable in the environment and are more susceptible to oxidants, such as chlorine. While there is no evidence to date about survival of the COVID-19 virus in water or sewage, the virus is likely to become inactivated significantly faster than non-enveloped human enteric viruses with known waterborne transmission (such as adenoviruses, norovirus, rotavirus and hepatitis A).
For example, one study found that a surrogate human corona-virus survived only 2 days in dechlorinated tap water and in hospital wastewater at 20°C. Other studies concur, noting that the human corona-viruses transmissible gastroenteritis corona-virus and mouse hepatitis virus demonstrated a 99.9% die-off in from 2 days at 23°C to 2 weeks at 25°C. Heat, high or low pH, sunlight, and common disinfectants (such as chlorine) all facilitate die off. (Source: WHO)
During the lock-down, the water of different reservoirs is affected in various ways. During this time, large industries closed, and tourism and other activities declined. As a result, the amount of water polluting wastes has been reduced or completely stopped. Therefore improves water quality. But these improvements in environmental pollution are considered temporary. When industries are in full swing after the lock-down, and more mineral resources are extracted, waste will be emitted at the same rate as before the lock-down, resulting in water contaminants such as biochemical oxygen demand, turbidity, coliform levels etc. returning to previous levels.
On the other hand, during the COVID-19 period, the use of hand sanitizers and soaps increased significantly. These will contaminate the water. Similarly, the use of other COVID-19 resistant equipment such as masks, hand gloves, PPE, etc. has increased, which can contaminate water including water logging.
Water used after daily hand and mouth washing; there is a risk of COVID-19 infection in toilet water. Professor Dr. Shubhjit Biswas, a scientist in the Indian Department of Immunology, also said that the water used could infect COVID-19. The possibility of group infection in densely populated areas cannot be ruled out. Do not allow used water to put aside.
Through the clean-up program since last April, members of the French non-profit organization Operation Mer Propre have seen numerous masks floating in the sea and numerous rubber gloves lying in waterlogged conditions all over the coast. Not only that plastic masks, gloves and plastic bottles of hand sanitizers, along with plastic cups and aluminum containers, are piled up on the Mediterranean floor. But there are indications of a new type of pollution in the near future, as the demand for disposable plastics is increasing in the world affected by the current Covid-19. Gradually it will become ubiquitous. There are masks and dirty gloves wrapped in seaweed.